COUNTRY MUSIC HALL OF FAME / NASHVILLE
COUNTRY MUSIC HALL OF FAME / NASHVILLE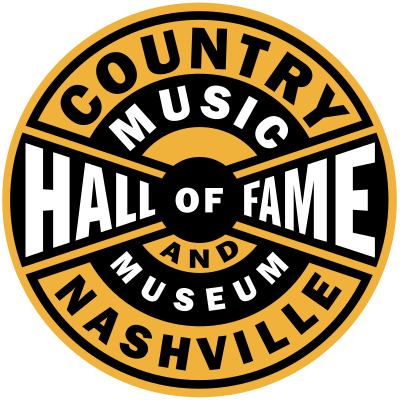 ARTICLE & PHOTOS DE ROLAND ROTH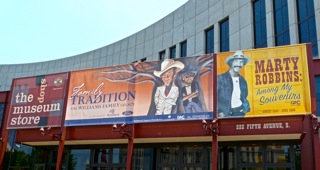 Le « Country Music Hall of Fame And Museum » est une institution et « temple de la renommée de la Country Music » qui a pour but d'être la mémoire de la musique Country, de préserver son histoire évolutive et ses traditions, et aussi d'honorer ses artistes les plus marquants en tant que membres de cette institution. Un autre but est d'éduquer à la musique Country, les étudiants, les groupes scolaires, les fans des artistes, les gens de l'industrie de la musique et en général le public de visiteurs.
Le Hall of Fame se trouve au centre ville de Nashville Tennessee, au 222, Fifth Avenue South.
C'est en 1961 que le Country Music Hall of Fame fut créé par la CMA (Country Music Association), au départ, au Tennessee State Museum à Nashville, jusqu'en 1967.
Des plaques de bronze en bas-relief, avec le visage des artistes et une courte biographie des membres y furent exposées.
Les premiers membres à y entrer en 1961 furent Jimmie Rodgers, Fred Rose et Hank Williams Sr.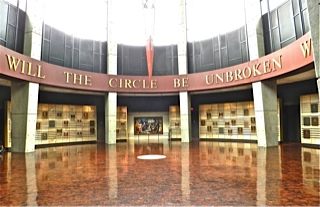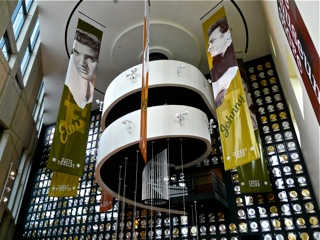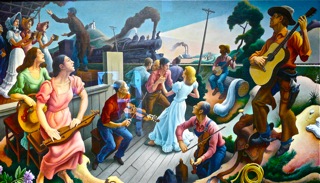 En 1963, la « Country Music Foundation » (CMF) a été créée et la CMA annonça la construction d'un nouveau bâtiment pour le Country Music Hall of Fame à Nashville.
L'original Country Music Hall of Fame ouvrit ses portes en 1967 au Music Row et fermera le 31 décembre 2000. Ce bâtiment sera plus tard rasé pour en faire un parking appartenant à la société BMI Records.
A l'époque, Kathy Mattea et Trisha Yearwood travaillaient comme guides pour les visites du Music Row Museum. Le nouveau site ouvrira ses portes le 17 mai 2001 et aura coûté la bagatelle 
de 37 millions de dollars.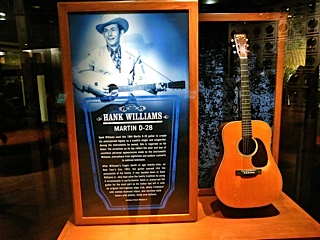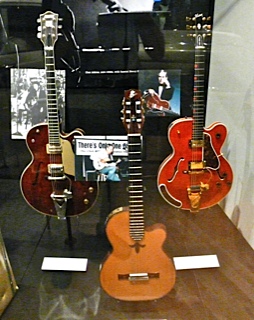 Le Country Music Hall of Fame a été conçu par les cabinets d'architecture Tuck Hinton et Ralph Appelbaum Associates.
L'immeuble en lui-même représente différents symboles se référant à la musique.
Vu du ciel, le bâtiment représente une clé de sol. Le côté Nord-Ouest fait penser à l'arrière d'une voiture Chevrolet Bel Air.
La tour, à l'extérieur, ressemble à une tour de transmission radio, réplique de la tour de la station radio WSM située à quelques kilomètres au Sud de Nashville. Les disques qui l'entourent font penser à des disques microsillons ou CD's.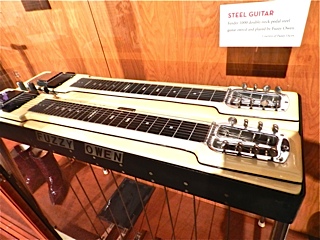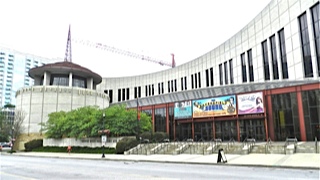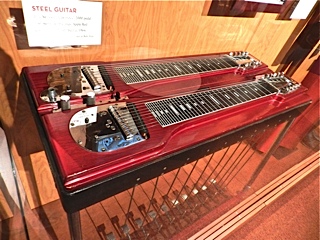 ​

Les fenêtres représentent des touches de piano.
On peut voir dans la rotonde du Hall, les plaques en bronze des membres de l'institution ……..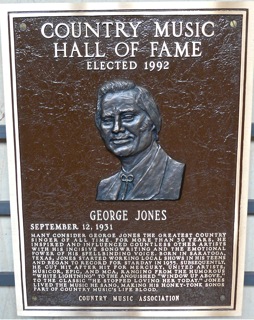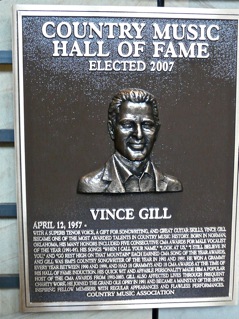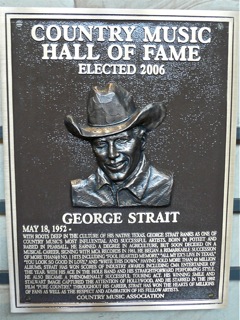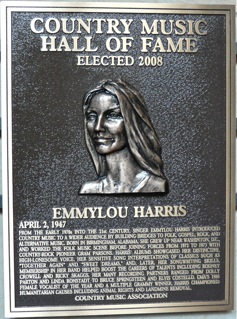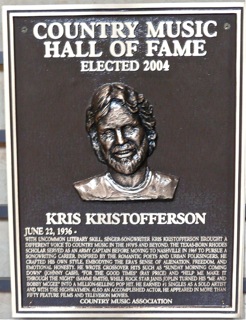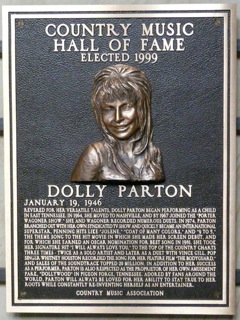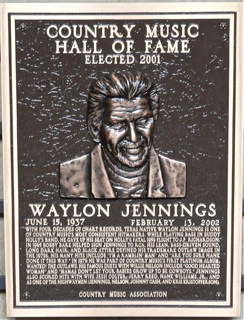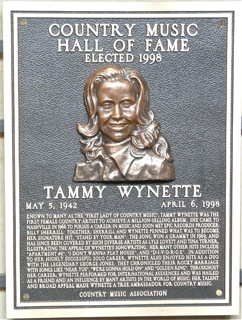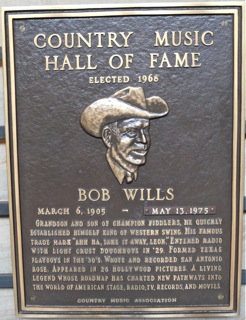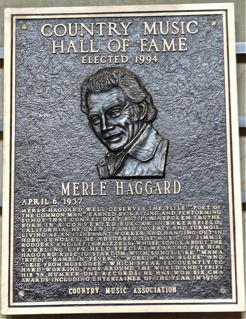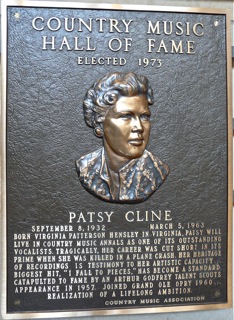 Parmi les expositions du Hall of fame, on peut trouver :
Sing Me Back Home: A Journey through Country Music,
l'illustration de l'histoire de la Country Music,
une collection d'enregistrements, de photographies, d'instruments et de costumes.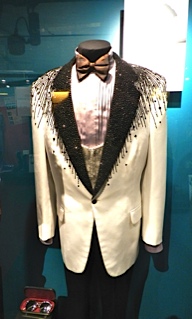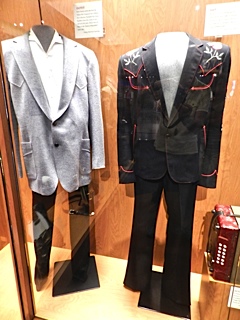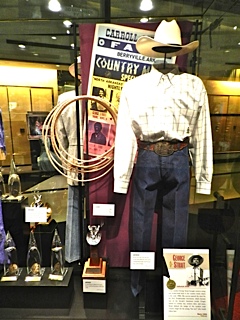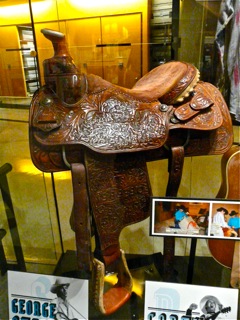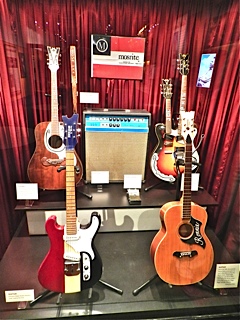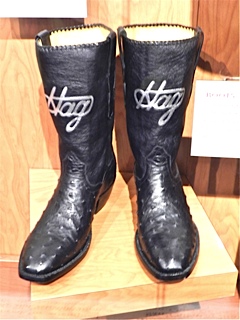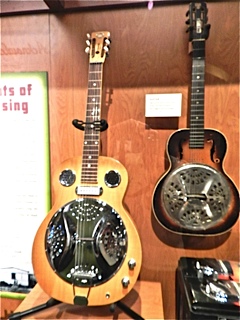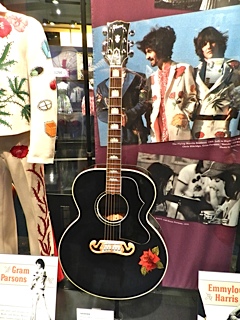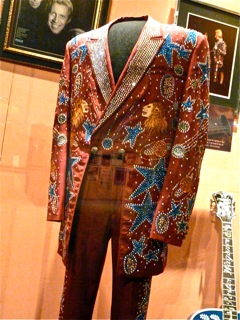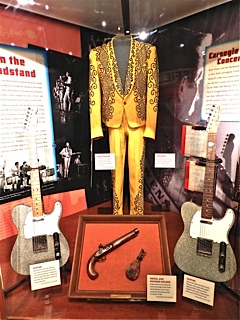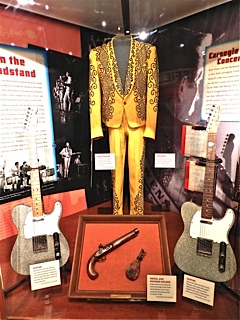 Pendant les premières années, le studio de XM Satellite Radio était hébergé au magasin de souvenirs.
La CMT (Country Music Television), émettait également tous les jours à partir du hall d'entrée du musée et ceci jusqu'en 2001, où elle déménagea à L'Opry Mills.
Voiture originale de WEBB PIERCE
une Pontiac Bonneville 1962, « Silver Dollar » Convertible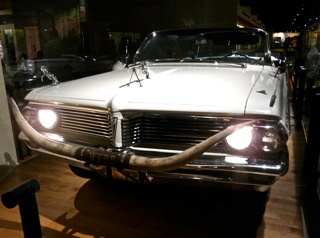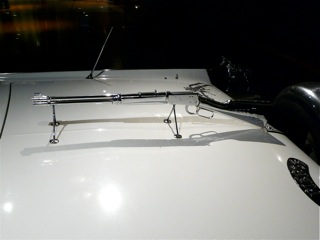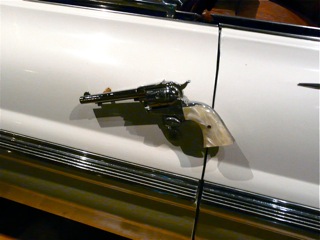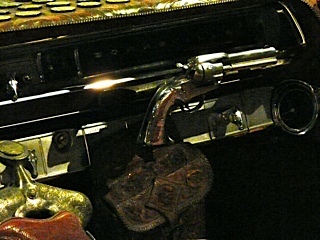 Voiture Cadillac « Solid Gold » et piano en or d' ELVIS PRESLEY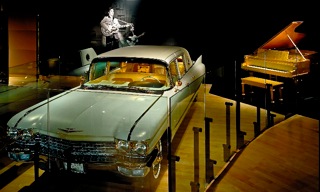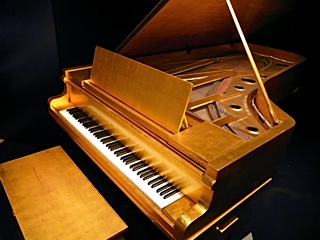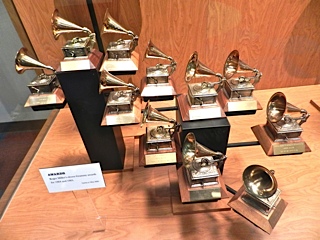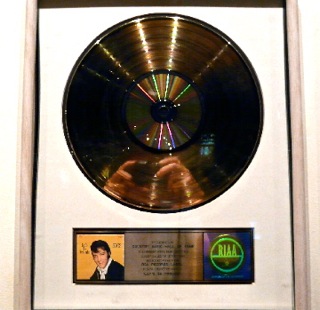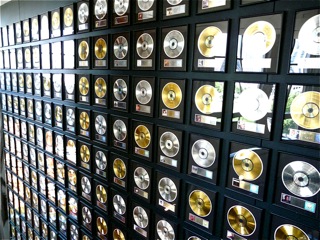 MEMBRES INTRONISES AU COUNTRY MUSIC HALL OF FAME
2019 : Brooks & Dunn - Ray Stevens - Jerry Bradley / 2018 : Ricky Skaggs - Dottie West - Johnny Gimbie / 2017 : Alan Jackson - Jerry Reed - Don Schlitz / 2016 : Fred Foster - Charlie Daniels -Randy Travis / 2015 : Jim Ed Brown & the Browns - The Oak Ridge Boys - Grady Martin / 2014 : Hank Cochran - Mac Wiseman - Ronnie Milsap / 2013 : Kenny Rogers - Bobby Bare - "Cowboy" Jack Clement / 2012 : Garth Brooks - Hargus "Pig" Robbins - Connie Smith / 2011 : Bobby Braddock - Reba McEntire - Jean Shepard / 2010 : Jimmy Dean - Ferlin Husky – Billy Sherril – Don Williams /
2009 : Charlie McCoy - Barbara Mandrell - Roy Clark / 2008 : Tom T. Hall - Emmylou Harris - Statler Brothers - Ernest Stoneman / 2007 : Ralph Emery - Vince Gill - Mel Tillis / 2006 : Harold Bradley - Sonny James - George Str / 2004 : Jim Foglesong - Kris Kristofferson / 2003 : Floyd Cramer - Carl Smith / 2002 : Bill Carlisle - Porter Wagoner / 2001 : Bill Anderson - The Delmore Brothers - The Everly 
Brothers - Don Gibson - Homer and Jethro – Waylon 
Jennings – The Jordanaires - Don Law - The Louvin 
Brothers – Ken Nelson - Sam Phillips - Webb Pierce / 2000 : Charley Pride - Faron Young /
1999 : Johnny Bond - Dolly Parton - Conway Twitty / 1998 : George Morgan - Elvis Presley - Bud Wendell 
Tammy Wynette / 1997 : Harlan Howard - Brenda Lee - Cindy Walker / 1996 : Patsy Montana - Buck Owens - Ray Price / 1995 : Roger Miller - Jo Walker-Meador / 1994 : Merle Haggard / 1993 : Willie Nelson / 1992 : George Jones - Frances Preston / 1991 : Boudleaux & Felice Bryant / 1990 : Tennessee Ernie Ford /
1989 : Jack Stapp - Cliffie Stone - Hank Thompson / 1988 : Loretta Lynn - Roy Rogers / 1987 : Rod Brasfield / 1986 : The Duke of Paducah - Wesley Rose / 1985 : Flatt and Scruggs / 1984 : Ralph Peer - Floyd Tillman / 1983 : Little Jimmy Dickens / 1982 : Lefty Frizzell - Roy Horton - Marty Robbins / 1981 : Vernon Dalhart - Grant Turner / 1980 : Johnny Cash - Connie B. Gay - Sons of the Pioneers /
1979 : Hubert Long - Hank Snow / 1978 : Grandpa Jones / 1977 : Merle Travis / 1976 : Paul Cohen - Kitty Wells / 1975 : Minnie Pearl / 1974 : Owen Bradley - Pee Wee King / 1973 : Chet Atkins - Patsy Cline / 1972 : Jimmy Davis / 1971 : Arthur E. Satherley / 1970 : The Carter Family /
1969 : Gene Autry / 1968 : Bob Wills / 1967 : Red Foley - J. L. (Joe) Frank - Jim Reeves – Stephen 
H.Sholes / 1966 : Eddy Arnold - Jim Denny - George D. Hay - Uncle Dave Macon / 1965 : Ernest Tubb / 1964 : Tex Ritter / 1963 : personne / 1962 : Roy Acuff / 1961 : Jimmie Rodgers - Fred Rose - Hank Williams
CHANSONS MANUSCRITES DE KEITH URBAN & DE CHRIS KRISTOFFERSON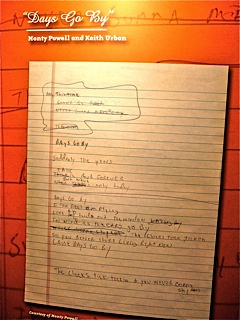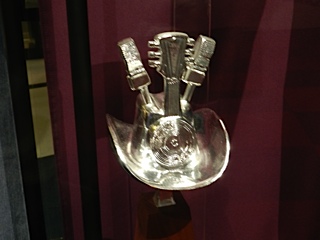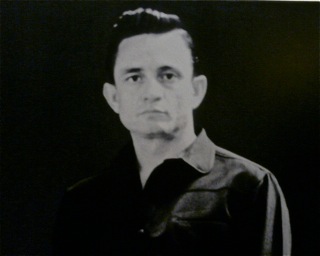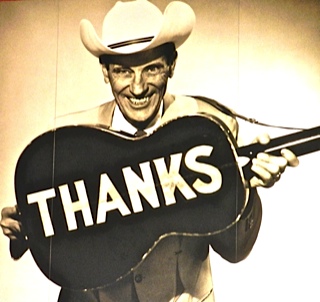 Date de dernière mise à jour : 17/05/2019